Introducing WorkMobile™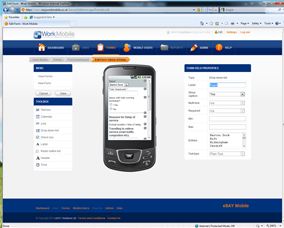 To use our data capture solution, all you need is a mobile phone or PDA and access to a computer so that you can customize WorkMobile™ to your business needs. This takes just a few minutes to set up and once you're happy with the content, you simply download it to your phone (or multiple phones if you want others to use it too for highly effective mobile workforce management).
Now you're ready to start work. From this time, data you capture on WorkMobile™ directly transfers to your back office computer system – giving you real-time data and immediate results. And if you want to change or update your content, you can do so at any time. Our data capture application has been specifically tailored, to provide you with a powerful mobile workforce management solution.
You won't look back
Using WorkMobile™ data capture software means... No more paper. No more laptops and worries about internet connection. No concerns about booting up. No more cables.
Just lightweight technology at your finger tips any time of the day or night. Your data is viewable from a safe and secure web portal that can only be accessed by your business.
Plus, WorkMobile™ is pay-as-you-go so there's no long term commitment or onerous annual subscriptions to worry about.
Trust us, you're in good company
Our customers range from global blue-chip companies through to small independent businesses and organisations, all of whom were looking for an effective tool to manage their mobile workforce.

Clients span market leaders in utility management, logistics and distribution, retail, small charities, universities, field marketers and security businesses to name but a few.

All have one thing in common. A shared passion for success built on streamlining business practices, cutting costs, driving up productivity and ultimately, increasing profits.

The WorkMobile™ application gives our clients the advantage of powerful data capture on the move and the ability to transmit this data to their back office in real-time.
Benefits
The benefits for business are vast. Here are our top ten as identified by our clients.
Saves you time and therefore money
Increases efficiency and productivity
Enhances customer interaction
Lets you work quicker and smarter
Reduces the need for paper-based activity
Creates streamlined business processes
Improves customer interaction
Increases sales opportunities
Allows you to update CRM instantly
Empowers you to capture vital data without internet connection
Top 10 uses
Any instance where the interaction involves a paper-based form being completed or information entered on to a spreadsheet can now be done whenever and wherever you want from your phone or PDA equipped with WorkMobile™.
Market research including questionnaires, sampling, petitions and mystery shops
Customer Relationship Management (CRM) – integrating with their CRM software so they can transact with customers more effectively
Reports on the move – water leaks or sales generation, competitor analysis for example.
Administration protocols such as collection, delivery, orders and invoicing dispatch and receipt notes.
Patient data forms in countries that require private medical insurance validation prior to treatment.
Financial agreements – in-store credit checks and credit applications.
Staff timesheets.
Charitable giving.
Event management including data capture at exhibitions, conferences.
Security – issuing fines, penalties and taking immediate written statements.
WorkMobile™ Navigation
Register Here
Please use this form to register for more information.